Myths Vs. Reality PMP® Registration Process
Let's look into some of the myths and realities we've heard that are related to the PMP® registration process. Based on inquiries we receive from students, this lengthy and somewhat complex process, which starts with filling out the PMP® application form, paying the examination fees and finally deciding on an exam date, encompasses aspects that can easily be open to interpretation. Take a look at the next figure to discover some of these "myths". Do they sound familiar?
Now, let's explore some of the reasons that may explain the persistence of the misconceptions highlighted in our "Myths Vs. Reality" illustration.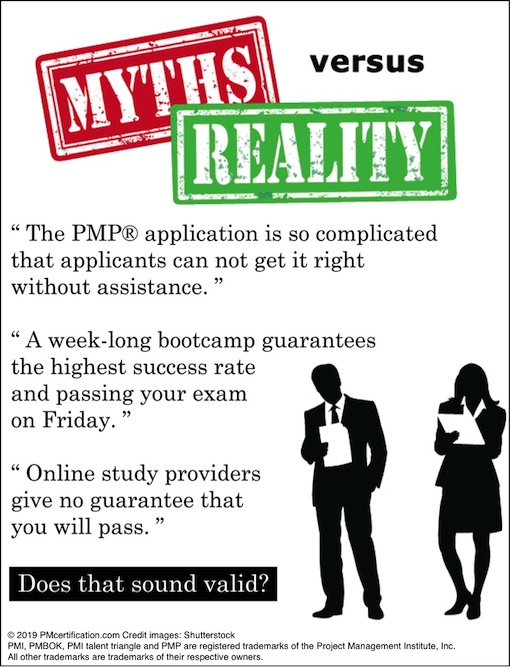 First of all, the PMP® application form is quite different from other examination processes in that it requires applicants to dig into their past experience and provide verifiable proof of their eligibility status. Many candidates have limited experience with preparing this kind of documentation, and filling out the form can be seen as cumbersome and intimidating.
Furthermore, without proper understanding of the implications of making a mistake, some students can be tempted to reach out to unprofessional "helpers" that tell them "not to worry" they will "do it all for them". This is not only unethical but also defeats the purpose of having this particular step included in the registration process.
The goal of this step is to allow candidates to reflect back and take full ownership of their project management experience, start to build awareness of how their work relates to the 5 process domains and to engage a comprehensive review of the techniques and skills required. Also, candidates will initiate the development of competency and skills to manage proper documentation and communication processes.
Filling out the application form is the first milestone in proving one's competency. Once students take the lead and get their application going by educating themselves and using the online guidelines and assistance material provided by many responsible training providers, they are on the right track to becoming a proficient PMP®. Many students feel a sense of achievement and satisfaction after completing this step, along with a sense of autonomy and leadership. Do it yourself is not only a cost saving alternative but also an educational and rewarding experience.
Another common misconception takes its roots in the fear of making a mistake when deciding on an exam date. One of the concerns that we've heard students talk about is the PROMETRIC® tests centers' "re-booking" fees. It is important for students to keep things in perspective and weigh the pros and cons of when to decide on an exam date. There are many benefits in setting an exam date as early as possible. Not only will you secure a seat at the test center, but you will also provide yourself with a powerful motivational tool. So we recommend that you commit to your exam date early, develop your study plan according to that date, and know that you can later manage the risk of paying "re-booking" fees.
If, for any reason, your study plan gets derailed or you feel at any point you are not ready to take the exam, comparing the cost of the PMP® "re-examination" fee with the "re-booking" fee should be sufficient to help you make your decision. And having contingency funds in reserve to pay for "re-booking" fees is a smart way to demonstrate your risk management skills and establish good habits for your future career as a PMP®.
PMI, PMBOK, PMI talent triangle and PMP are registered trademarks of the Project Management Institute, Inc. All other trademarks are trademarks of their respective owners.
We do not endorse or recommend any particular training or services. We provide information only which we hope are helpful.