Story No. 1: ONLINE VS. CLASSROOM TRAINING
"After doing research on the web, I came across two primary methods of training delivery: online or in-person. Online courses tended to run in the hundreds of dollars whereas classroom training options, many of which were taught in plush settings such as a hotel, reached well into the thousands.

As a cheapskate, I am predisposed to seek value in any purchase I make. In other words, I always look for where I can get the greatest bang for my buck. My other concern was time. I did not have the time to travel to a location where an in-person PMP prep course was being taught. Many things were going on in my life at that time so being able to work independently, at my own pace and on my own time was important.
Story No. 2: PMP TRAINING FLEXIBILITY
"As a mother of a 1 year old and 3 year old, I needed a course that would provide both flexibility and affordability. I began my search online and found many resources. However an online provider was the best resource for me that had a great combination of notes, videos, practice tests and quizzes.

I prepared for the test for about 3 months. I'm not the type of person to go through a boot camp in a week and retain everything, so this program was the best choice for me and my schedule."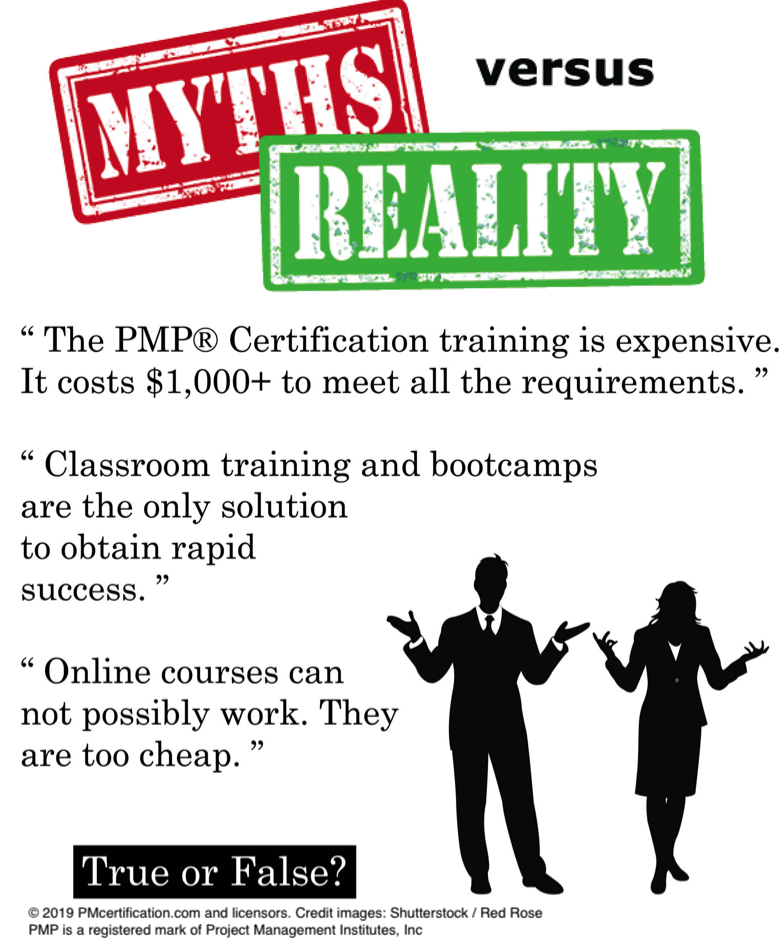 Story No. 3: PMP CERTIFICATION LOWEST COST BY STUDYING ON A BUDGET
"I didn't have the money to spend on PMP preparation books or courses, so I set out to study for the exam on my own. However, reading the PMBOK alone in order to study for my PMP exam was too difficult and quite frankly, boring. I was never sure if I was retaining the information or not.

My internet searches for PMP prep that offer materials to be the easiest to use out of everything else on the market. By testing my PMBOK knowledge using refresher and practice questions, I was able to re-invigorate my preparation activities and accelerate my learning. The practice questions were definitely the key for me to pass the PMP exam, which I did on my first try. I will take online courses for my PDUs, I can study at my lunch break and they are cheaper than classroom."
Story No. 4: JOB WANTS PMP
"More and more, it seems companies like the one I work for are hiring project managers with not just on the job experience, but also a certification like PRINCE2 or PMP. So I decided last summer to prepare for the PMP exam.

It took about four months from the time I decided to pursue my PMP certification until the time I took and passed the exam. To obtain the training hours required I searched the Internet for a cost effective, reputable, and self paced solution.
One must not discount the cost of the time, effort, and discipline required to undertake a self-paced training course. I also bought other books to find out more about the PMP.

I did feel more confident in my abilities to perform my job with the tools and knowledge I gained in training for the PMP exam. Even now, I often find myself spending more quality time in the planning stages than trying to rush through driving projects. My management also saw it as a plus that I had obtained my PMP certification, so I was offered more lead roles on bigger projects."
PMI, PMBOK, PMI talent triangle and PMP are registered trademarks of the Project Management Institute, Inc. All other trademarks are trademarks of their respective owners.