5 Tasks List for PMP® Registration
Candidates who are successful in reaching their goal take ownership and use their professional skills to research, understand and manage the registration process.
The first step in the process is to download the very useful Project Management Professional (PMP)® Handbook published by PMI®. This document includes specific instructions you need to follow to adhere to the PMI® registration process and complete all steps successfully. Make sure to visit the PMI® website and download the latest version, as instructions may evolve over time.
Based on our experience, it can also be very useful to develop an activity diagram and identify roles and responsibilities. You can take a course in scheduling to help you organize expected sequence of events and the tasks to be managed. You will find in another post a sample process overview diagram that you can use as is or as a reference to develop your own. Once you have developed a visual action plan encompassing the actors, task breakdown and timeline, you will gain clarity and direction for planning your PMP® prep project.
As you must have discovered (or will discover soon), the PMP® registration process is fairly lengthy so it can be helpful to break it down into a list of actionable tasks, as presented in the figure below.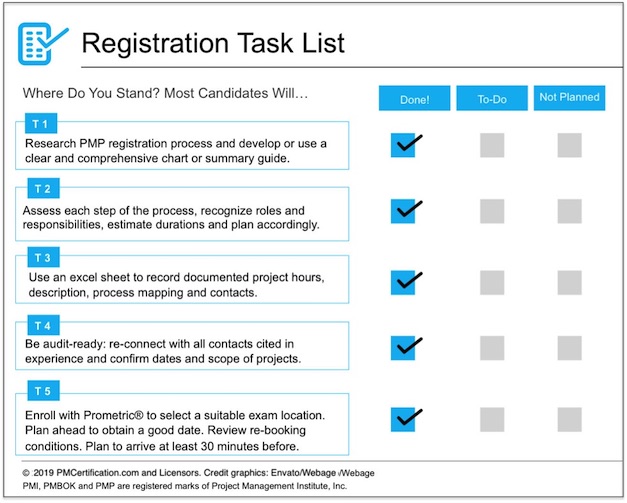 We suggest you use this figure to complete an understanding self-assessment exercise. It delineates 5 key administrative tasks (or groups of tasks) that are part of the registration process and will allow you to assess your level of understanding of the process, as well as your readiness. We recommend students get this administrative process out of the way as soon as possible so they can focus entirely on their study plan and minimize uncertainties that could otherwise easily distract their mind and jeopardize cognitive efforts.
Successful PMP® candidates will usually mark all 5 tasks as done. Unfortunately, students who are uncertain about the process, or who do not take care with setting an exam date, most often will not benefit from having a clear goal in mind and will miss out on an important self-motivation factor. Setting goals and deadlines are effective methods to get things done. As project managers, we all know this for a fact!
Completing your administrative paper work, validating your past experience, obtaining your eligibility letter from PMI, and estimating your exam preparation time are important steps in preparing to set an exam date. By completing your administrative process early, you will have a solid foundation on which to execute your study plan with clarity of mind and ultimately earn your PMP® certification with flying colors.
PMI, PMBOK, PMI talent triangle and PMP are registered trademarks of the Project Management Institute, Inc. All other trademarks are trademarks of their respective owners.
We do not endorse or recommend any particular training or services. We provide information only which we hope are helpful.