Myths Vs. Reality: PMP® Training Cost
If you plan to take a PMI certification exam, as an experienced project manager, you've probably already planned and adhered to a strict study schedule. As the exam date gets closer and closer, however, you may find yourself wondering if the time you are investing will be enough, if the method you chose is the best way to prepare, and whether you should have pursued additional study help.
You may also be wondering how much all of this is going to cost you in the end. At this point, you may have already invested in the compulsory 35-hour project management education course; and you most likely have in your hands the latest version of, A Guide to the Project Management Body of Knowledge, (PMBOK® Guide), Project Management Institute, Inc. You may have also invested in training material or purchased sets of practice questions. But how do you know if you are investing in resources that will actually help you pass the exam?
There are quite a few myths circulating about the training options available and their real value. Many of our prospective students have told us they had to do extensive research to figure things out on their own and discover valuable choices and new online training options. The following figure reveals some of the most common "myths" surrounding PMP® training today. Perhaps you've already encountered some of them with your training related to project's initiation.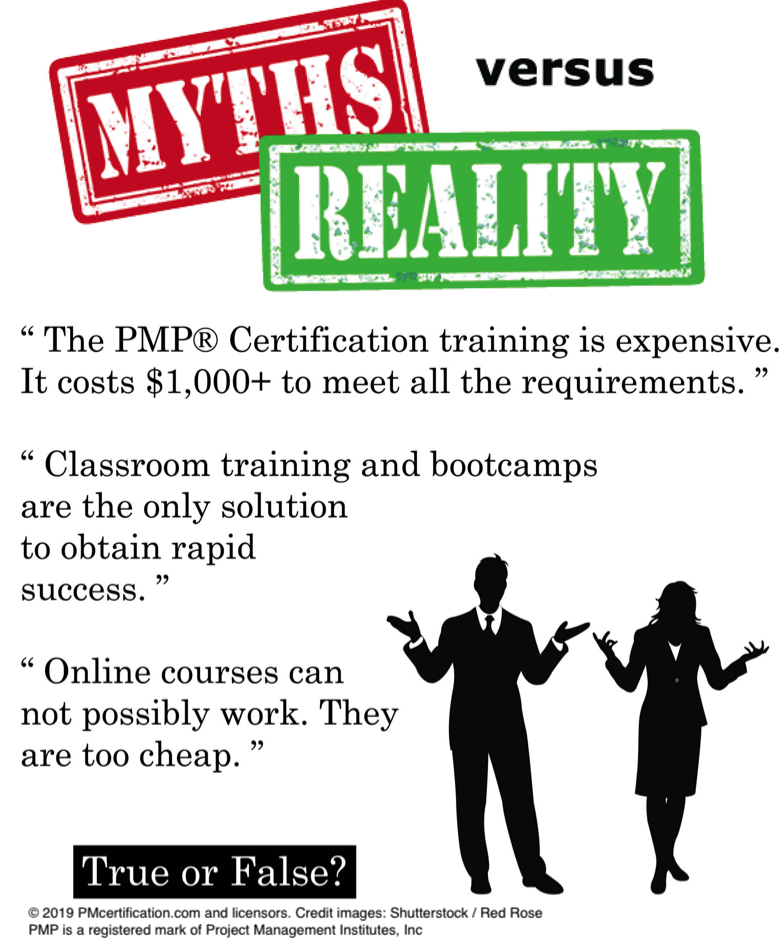 How does this first "myths vs. reality" check resonate? In the following paragraphs, we will present a number of selected stories that were shared by PMP alumni to provide you with more background information. You will see how they managed their budget, what training choices they selected and how things worked out.
Because PMP certified have already experienced a similar journey to the one you're currently on, getting to know their stories, how they prepared and what resources they leveraged can inspire you to design your own successful training plan.
We asked them the questions you'd like to hear about and they shared the lessons they learned and their own tips. For instance, how did they fulfill the 35 contact hours of project management education? Which type of training provider did they select and why? How effective was the course or the materials? And how much did they spend?
These questions and more are answered in this blog. Use their experiences to create a customized training plan that meets your individual needs!
---
PMI, PMBOK, PMI talent triangle and PMP are registered trademarks of the Project Management Institute, Inc. All other trademarks are trademarks of their respective owners.